Rose Books
The following books have been compiled by
Christine Rose, CG, CGL, FASG.

DESCENDANTS OF ROBERT ROSE OF BRANFORD AND WETHERSFIELD, CONNECTICUT, WHO CAME ON THE SHIP FRANCIS IN 1634 FROM IPSWICH, ENGLAND, 1983. The largest of all Rose families of the U.S. Contains many records from war files, census, Bibles, biographies, photos, probates, etc. Anyone with unidentified Roses should examine this book. Ten generations on some branches included. Hard cover, illus., fully indexed, pp. xvi, 512. Price: $38.50 plus $6.45 shipping.
ANCESTORS AND DESCENDANTS OF REV. ROBERT ROSE AND REV. CHARLES ROSE OF SCOTLAND AND COLONIAL VIRGINIA, with information on their brothers Patrick, James, Hugh, George, Alexander and John, 1985. This is a full genealogy of the well-known and prominent Rose family of Virginia. Rev. Robert Rose became one of the great planters of colonial Virginia. Includes parish register records from Scotland, and many important documents on this family. Seven generations on some branches. Hard cover, fully indexed, illus., pp. xiv., 318. Price $25.00 plus $6.45 shipping
The two books above were the recipient of the
prestigious Donald Lines Jacobus award.

ADDITIONAL ROSE BOOKS/BOOKLETS
Also available from the Rose Family Association, compiled by Christine Rose, the following researching books, fully indexed.
ROSE WAR FILES: VOL. I. LAND BOUNTY ABSTRACTS. 1997. Over 400 files abstracted for land bounty based on War of 1812, Indian, Mexican and other early wars, many containing extremely information on marriages, Bibles, etc. These valuable files give a wealth of clues. Fully indexed both by name and locality. $13.50 plus $3.00 shipping

ROSE WAR FILES: VOL. II. ABSTRACTS OF REVOLUTIONARY PENSION FILES FOR ROSE. 85 pg. 1996. Fully indexed both by name and locality. $11.00 plus $2.75 shipping

ABSTRACTS OF EARLY VIRGINIA ROSE ESTATES: Wills, Inventories & Administrator's Bonds Before 1850, 48 pp., 1972. Fully indexed. $12.00 plus $5.60 shipping

ANDREW ROSE FAMILY OF BUCKS CO., PA. AND MERCER CO., PA.: The First Five Generations in America, 81 pp., 1977. No longer available. Superseded with updated information on the Andrew Rose Family Report. See listing of Family Reports on this website for details.

ANCESTORS AND DESCENDANTS OF FREDERICK ROSE OF WAYNE AND HARDIN COS., TENN., ORANGE CO., N.C. AND SUSSEX CO., VA., 2nd ed., rev. and enlarged, 92, x. pp., photos. Fully indexed. $13.00 plus $6.45 shipping.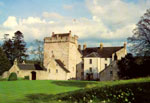 To the left is Kilravock Castle near Inverness, Scotland,, home of the Roses of Kilravock for many centuries. Members of the Rose Family Association have made three group trips there, in 1982, 1992 and 1997. This rollover view is from the front of Kilravock Castle to the back. (Some browsers will not show the rollover.) Price: Hard cover, illustrated. $25.00. Postage $5.60.

SCARCE ROSE BOOK ON SCOTTISH ROSE AVAILABLE IN REPRINT
FAMILY OF ROSE OF KILRAVOCK [SCOTLAND] 1290-1847. Reprint of the scarce edition compiled by Hew Rose, extended by Rev. Lachlan Shaw, originally published Edinburgh 1848. It is a fascinating and unique history of the Scottish Rose family, and includes some references Što lines that came into America. (Rev. Robert Rose of Virginia for instance is descended from the 8th Baron of Kilravock; various other Scottish Šimmigrants are connected.) Though the Rose Family Association traces Roses of all nationalities, the Scottish family with their long line from Kilravock and their history as a peaceful clan fascinates all by the name. pp. ix, 531. $25.00. Shipping charges $6.45 added.
Go to: Kilravock Castle at Croy, Scotland -for information on accommodations, history etc. of Kilravock Castle.
To order, make a check payable to
ROSE FAMILY ASSOCIATION and mail it to:

ROSE FAMILY ASSOCIATION
Christine Rose, CG, CGL, FASG
761 Villa Teresa Way
San Jose, CA 95123
Be sure to add the postage.

Or, want to pay for a report through PAYPAL? If you already have an account with Paypal, send yur payment to Christine@Christine4Rose.com. If you don't have a Paypal account, email at that address to Christine and indicate which item you wish to order. You will be sent an email with the total costs. You can then use the link in that email to pay with Paypal. You do not have to be a member of PAYPAL to use this service; it does, however, speed up the process for you don't have to wait until your check arrives.

ROSE FAMILY ASSOCIATION
761 Villa Teresa Way
San Jose, California 95123
408-268-2137
Christine@Christine4Rose.com